Advice for Professionals and Laypersons
Speaker: Kevin Quiles, MDiv, MA, LPC, NCC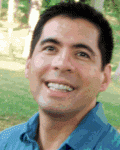 Kevin Quiles, author of Spiritual Care to Elderly and Dying Loved Ones, has provided spiritual and bereavement counseling to elderly and dying individuals and their families since 1998.
He earned his Bachelor of Arts Degree at Southeastern College in 1987, attained a Masters of Divinity Degree with emphasis in Counseling at Reformed Theological Seminary in 1995, and has completed over two years of clinical-pastoral education under professional supervision.
Click Kevin's photo for additional information. For more information on his book, click the image below. To book this speaker, contact us.
Toll free: 1-877-513-0099 | Email: info@QOLpublishing.com