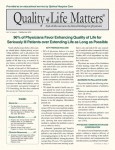 Previous issues of Quality of Life Matters are posted below. Click the links to view each newsletter.  
QOLM Issue 19-1: "Hospice Delivers Optimized Quality of Care, Improves Survival for Patients with Lung Cancer"
QOLM Issue 18-4: "Vast Majority of Bereaved Family Caregivers Would Recommend Hospice"
QOLM Issue 18-3: "Hospice Care Linked to Improved Outcomes, Better Patient Experience, National Study Finds"
QOLM Issue 18-2: "Recent Prognosis Discussion Improves Advanced Cancer Patients' Understanding of Terminal Illness"
QOLM Issue 18-1: "U.S. Has Lowest Rate of Hospital Deaths but Highest Rate of Intensive Treatments near Death"
QOLM Issue 17-4: "'Surprise Question' Found to Be Better Predictor of Patient Death than Other Measures"
QOLM Issue 17-3: "Perception of U.S. End-of-Life Care Worsens, Except When Hospice Is Involved"
QOLM Issue 17-2: "Physician Referral History Is Strongest Predictor of Enrollment of Hospice-Eligible Patients"
QOLM Issue 17-1: "Palliative Care and Hospice Referral Urged as Part of Emergency Medicine Practice"
QOLM Issue 16-4: "American College of Physicians Advises Early End-of-Life Discussions for All Seriously Ill Patients"
QOLM Issue 16-3: "Caregivers Give High Marks to Hospice Care in National Survey"
QOLM Issue 16-2: "Advance Directives Improve Patient Outcomes after Hospice Enrollment"
QOLM Issue 16-1: "Discontinuing Dialysis: Researchers Identify Survival Predictors, Offer Ways to Improve End-of-Life Care"
QOLM Issue 15-4: "Hospice Use Remains Steady, But Median Length of Service Continues to Decrease"
QOLM Issue 15-3: "Crisis in U.S. Cancer Care Demands Shift to Patient-Centered Care"
QOLM Issue 15-2: "Influential End-of-Life Care Guidelines for Clinicians and Institutions Updated and Expanded"
QOLM Issue 15-1: "Increased Rate of Intensive Care Utilization Near the End of Life Raises Concerns"
QOLM Issue 14-4: "Earlier End-of-Life Discussions Linked to Greater Use of Hospice, Less Aggressive Care Near Death"
QOLM Issue 14-3: "Experts Call for a Moratorium on Using the Phrase 'Do Everything'"
QOLM Issue 14-2: "Hospital Discharges to Hospice Increased 15-Fold in Ten Years, National Study Finds"
QOLM Issue 14-1: "Physicians Urged to Conduct Early and Ongoing Discussions of Preferences with Advanced Heart Failure Patients"
---
REORDERING? Contact us with the product, quantity, and other instructions for the reorder. Toll free: 1-877-513-0099 | Email: info@QOLpublishing.com
First-time orders please download the pricing and order form below.
PRICING