A Hospice Professional's Mission
Speaker: C. Andrew Martin, DNP, MS, RN, ACRN, CHPN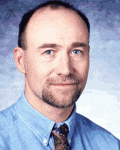 The author of Reflections of a Loving Partner: Caregiving at the End of Life, Andrew, is the RN Medical Case Manager at AIDS Services of Austin, Inc., located in Austin, TX. He is specially certified as both an AIDS Certified Registered Nurse (ACRN) and a Certified Hospice and Palliative Nurse (CHPN). He holds nursing Online Adjunct Faculty positions at Saint Joseph's College of Maine and the University of Saint Mary. He was honored with a 2010-2011 End-of-Life Nursing Education Consortium (ELNEC) award.
Andrew has presented at the National Hospice and Palliative Care Organization's Management and Leadership Conference and Clinical Team Conference, and also at many state hospice organization conferences. Andrew's passion is raising hospice and palliative care awareness and is available to speak to your organization.
Click Andrew's photo for additional information. For more information on his book, click the image below. To book this speaker, contact us.
Toll free: 1-877-513-0099 | Email: info@QOLpublishing.com