Quality of Life Publishing Co. is now the publisher of Hank Dunn's books, Hard Choices for Loving People: CPR, Feeding Tubes, Palliative Care, Comfort Measures, and the Patient with a Serious Illness and Light in the Shadows: Meditations While Living with a Life-Threatening Illness.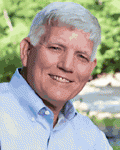 Hank Dunn is an ordained healthcare chaplain, bestselling author, and speaker. For more than 30 years, he has been helping patients and their families as they struggle with end-of-life decisions. Chaplain Dunn offers honest, informed, and reliable advice as he helps with the emotional and spiritual concerns facing patients and their families during this very difficult time of life.
We are honored to have the opportunity to continue to spread Hank's important message about issues surrounding end-of-life decisions. Contact us for more information or to place an order.
Toll free: 1-877-513-0099 | Email: info@QOLpublishing.com